This is the web page of Giliana Attewatyr, mundanely known as Shelly Wolf.

Located in the Barony of Arn Hold in the Kingdom of Artemisia (otherwise known as Boise, ID)
7th Baroness of the Barony of Arn Hold
Order of the Laurel - Elevated for pewtering (Unless you ask Kortlan)
Order of the Pelican - Elevated for enabling others
Sheep-Rising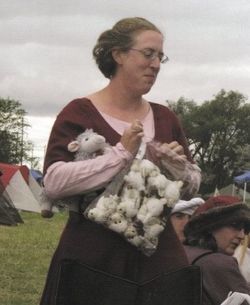 In the 44th year of the Society, being 2009 by the common reckoning, there was a great feud brewing in the Kingdom of Artemisia.  Skirmishes between the neighboring Baronies of Loch Salann and Gryphon's Lair have escalated to the point that an all-out war was declared.  

The Barony of Arn Hold was torn in loyalties in this war and desired rather to prevent it.  The primary grievances were that the conflict started at the close of A.S. 43 when the sheep flocks of Loch Salann were pillaged by Gryphon's Lair. Arn Hold hatched a plan to thwart the battle.

The following video takes place at grand court at Uprising in the Barony of One Thousand Eyes.
---